Profile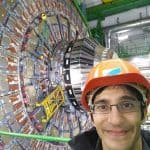 Fahim Dhalla
Curriculum Vitae
Education:

I studied Mechanical Engineering at Imperial College London

Qualifications:

I have an MEng (Masters in Engineering)

Work History:

I have worked at coal, gas and nuclear power stations all over England.

Current Job:

I currently am a Cryogenics Mechanical Engineer at CERN
About Me

I now live in Geneva in Switzerland but I grew up in London. These days I like spending my free time going to concerts, visiting new places in Switzerland and especially snowboarding and hiking with my friends.

My Work

I work at CERN as a cryogenics mechanical engineer. I work on many aspects related to liquid helium cooling systems, from design to build, to help test new super conducting magnets.

My Typical Day: On a good day I bike to work, then do some design and process calculations. For lunch I like to do a yoga class then grab something quick, before heading back to my office to discuss installation and commissioning of new equipment with my colleagues.

What I'd do with the money

Some more talks with students to help them understand the relevance of studying science in the modern world :-)

My Interview

What's the best thing you've done in your career?

Looking into an open nuclear reactor and seeing the radiation glow! This was at Sizewell B near Norwich when I was working for EDF.

What or who inspired you to follow your career?

I went on a school trip to JET (a fusion reactor in Oxford). After that I realised that I could work somewhere at the limits of technology, doing something that could change the world.

What was your favourite subject at school?

Many! Maths, Art and psychology

What did you want to be after you left school?

I had no idea... I still have no idea. I want to do something with my life that makes this world a better place than when I was born.

Were you ever in trouble at school?

Of course?? Mainly for talking back to my teachers

If you weren't doing this job, what would you choose instead?

Snowboarding instructor!

Who is your favourite singer or band?

Bastille

What's your favourite food?

I love Indian food

What is the most fun thing you've done?

Playing my electrical guitar on my sofa pretending I'm a rock star. I think my neighbours enjoy it too...

If you had 3 wishes for yourself what would they be? - be honest!

I wish I could have a better memory, good health into old age and be able to fly.

Tell us a joke.

How many nuclear engineers does it take to change a lightbulb? Seven. One to install the new bulb and six to figure out what to do with the old one for the next 10,000 years.
---
---